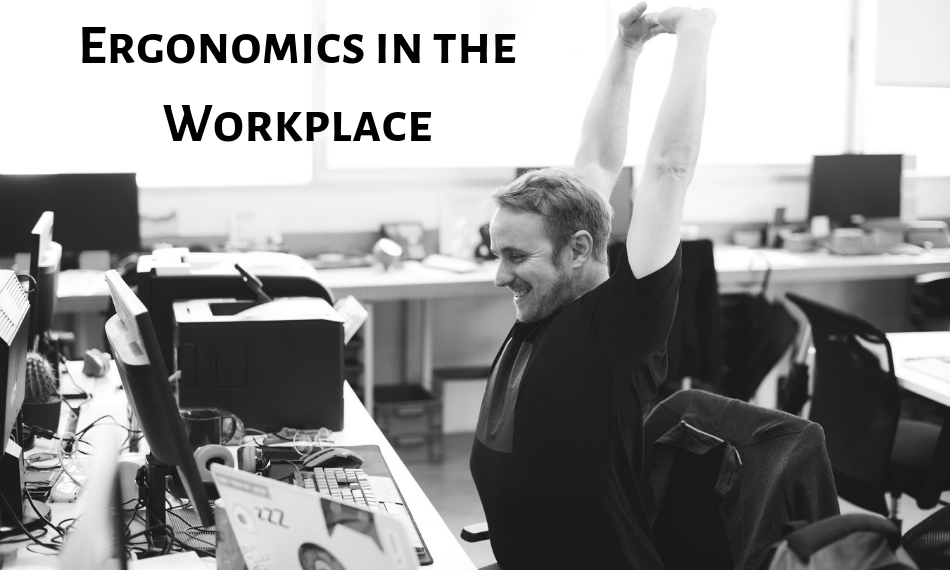 What Is Ergonomics? 
Working Americans spend about 2,000 hours per year in the workplace and all these hours can have a negative effect on their eyes, back, arms, and neck. To solve that, it is essential to understand the importance of Ergonomics and how it is the key in protecting workers health.
Ergonomics is the science and study of working conditions with respect to the physical body and duties of the worker. The main goal of ergonomics is to prevent musculoskeletal disorders (MSDs) by designing a workplace that accommodates the variety of human capabilities and limitations.
What are the Health Effects of Poor Ergonomics? 
It is known that Ergonomic workplace issues can impact all kinds of workers, from construction workers to desk workers. Poor working conditions are bad for both employees and employers and can result in physical suffering and adverse economic impact.
One of the most common concerns regarding poor Ergonomics are Musculoskeletal Disorders (MSDs). MSDs can occur suddenly or develop gradually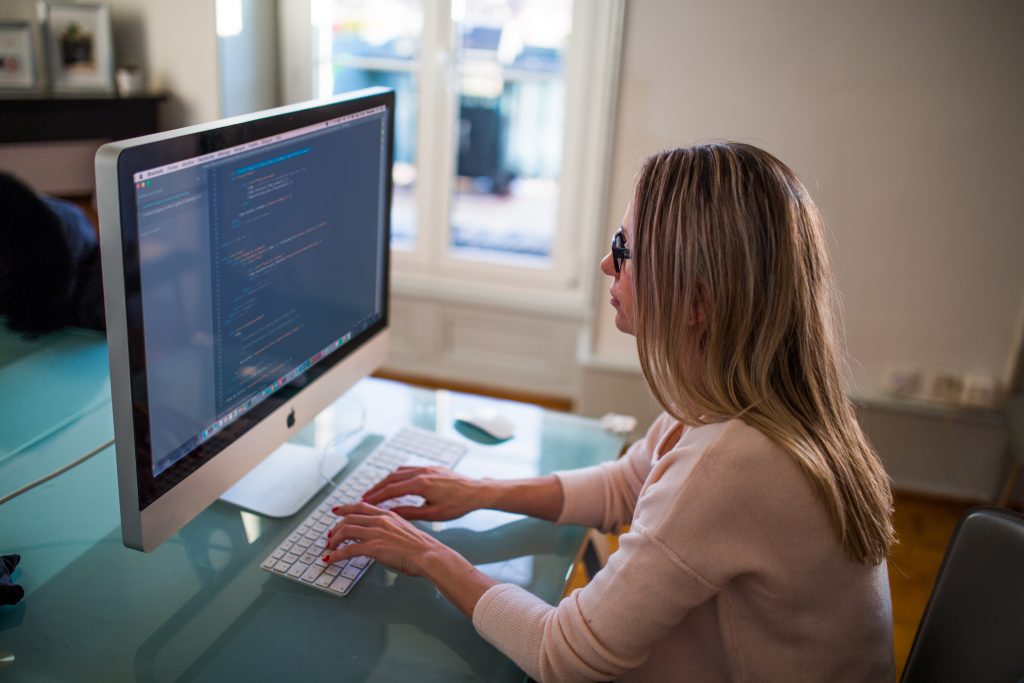 over weeks, months or even years, and they are linked to known hazards in the workplace, such as repetition, fixed or awkward postures and force.
Some examples of MSDs are: carpal tunnel syndrome, tendinitis, trigger finger, muscle strains and low back injuries. All these work-related MSDs can be prevented when applying Ergonomics because it helps lessen muscle fatigue, increases productivity and reduces the number and severity of the injuries.
Working Americans spend about 2,000 hours per year in the workplace and all these hours can have a negative effect on their eyes, back, arms, and neck.
What are the Benefits of Good Ergonomics? 
Preventing injuries is less expensive than making changes after an injury has already occurred. Also, under the Occupational Health and Safety Act (OSHA), employers are responsible for providing safe and healthful workplaces for their employees. It applies to almost all workers and workplaces, in which covered employers have a legal obligation to protect workers from hazards, including those caused by poor ergonomics.
When applying ergonomics principles to the workplace, the number and severity of MSDs resulting from physical overexertion, and their associated costs, can be substantially reduced by applying ergonomic principles. Thus, improving productivity, employee morale and quality.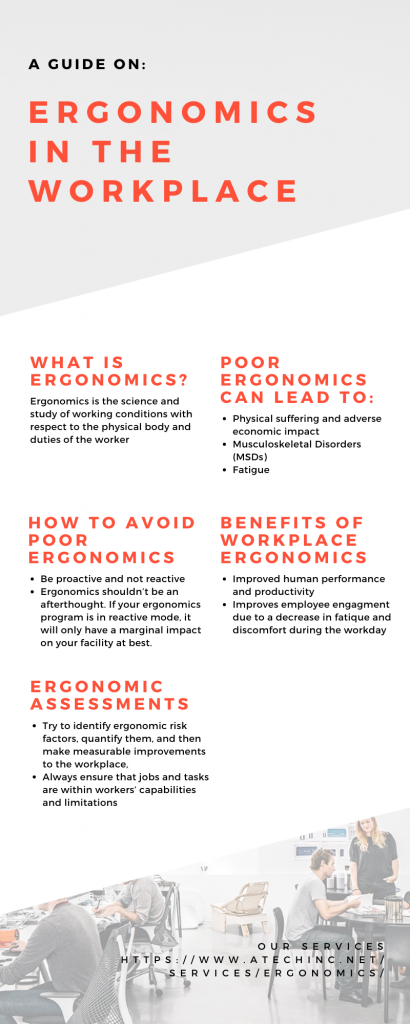 Fun Facts: 
Work related MSDs are among the most frequently reported causes of lost or restricted work time.
According to the Bureau of Labor Statistics (BLS) in 2013, MSDs cases accounted for 33% of all worker injury and illness cases.
Resource: (https://www.osha.gov/ergonomics

)
Our Ergonomic Services 
It is in everyone's best interest to apply ergonomics to the workplace. Consulting directly with a professional to analyze specific working conditions and make recommendations can help you redesign the workplace to meet the capabilities of every employee.
A-Tech's Ergonomic solutions allow employers to take a proactive approach to addressing employee's physical well-being.
Contact us to learn more about our Ergonomics Services provided by certified professionals!
References
"Let's talk Ergonomics!" Springlaw, https://www.lexology.com/library/detail.aspx?g=cbfec211-2d50-4bd1-b1fd-fe1f0c1e11af
"An Ergonomics Approach to Avoiding Office Workplace Injuries and Illnesses." AIHA, https://www.aiha.org/
"Ergonomics in the Workplace." Ontario, https://www.ontario.ca/page/ergonomics-workplace?mc_cid=489e2919bb&mc_eid=0ff67478ff
"The New OSHA Ergonomics Program Standard." IRMI, https://www.irmi.com/articles/expert-commentary/new-osha-ergonomics-program-standard