Regulating noise in the workplace is crucial for the physical and mental health of employees. According to data analyzed by the National Health and Nutrition Examination Survey, approximately 22 million U.S. workers are exposed to excessive noise levels. For the employee, this can result in permanent health effects, such as damaged hearing. In addition, the employer may face charges from the Occupational Safety and Health Administration (OSHA) if noise levels are not in compliance with the current regulation (CCR, Title 8, Section 5097). A Hearing Conservation Program seeks to prevent excessive noise levels in the workplace in order to protect employees.
The Hearing Conservation Program, created by OSHA, requires employers to reduce excessive noise by requiring them to measure noise levels, provide free hearing exams, hearing protection, and training. Employers must also find ways to mitigate noise levels if they are not within industry standards. The Hierarchy of Controls, taken from the Centers for Disease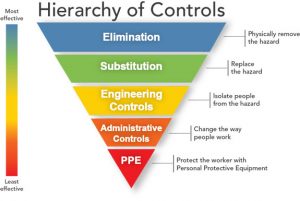 Control and Prevention (CDC), can help determine possible solutions for finding the most effective method. For instance, if using earplugs are ineffective in reducing the exposure to excessive noise for employees (PPE solution), an employer may limit the amount of time an employee spends around the noise (administrative controls). While it may be difficult to assess and mitigate noise problems, A-Tech Consulting can help.
How A-Tech Can Help
A-Tech Consulting is dedicated in protecting the health of employers and their workers. From factories to offices, our team provides noise monitoring that calculates the average noise levels in a full workday. With the gathered data from our equipment, we can provide numerous mitigation methods, using our knowledge with the Hierarchy of Controls model. Your safety is our first concern, let us help you today!
A-Tech services all of Southern California, including Los Angeles, Orange County, San Diego, and Inland Empire. We are available to answer any of your questions regarding environmental concerns. You can contact us at [email protected] or 1-800-434-1025.
https://pubmed.ncbi.nlm.nih.gov/19267354/