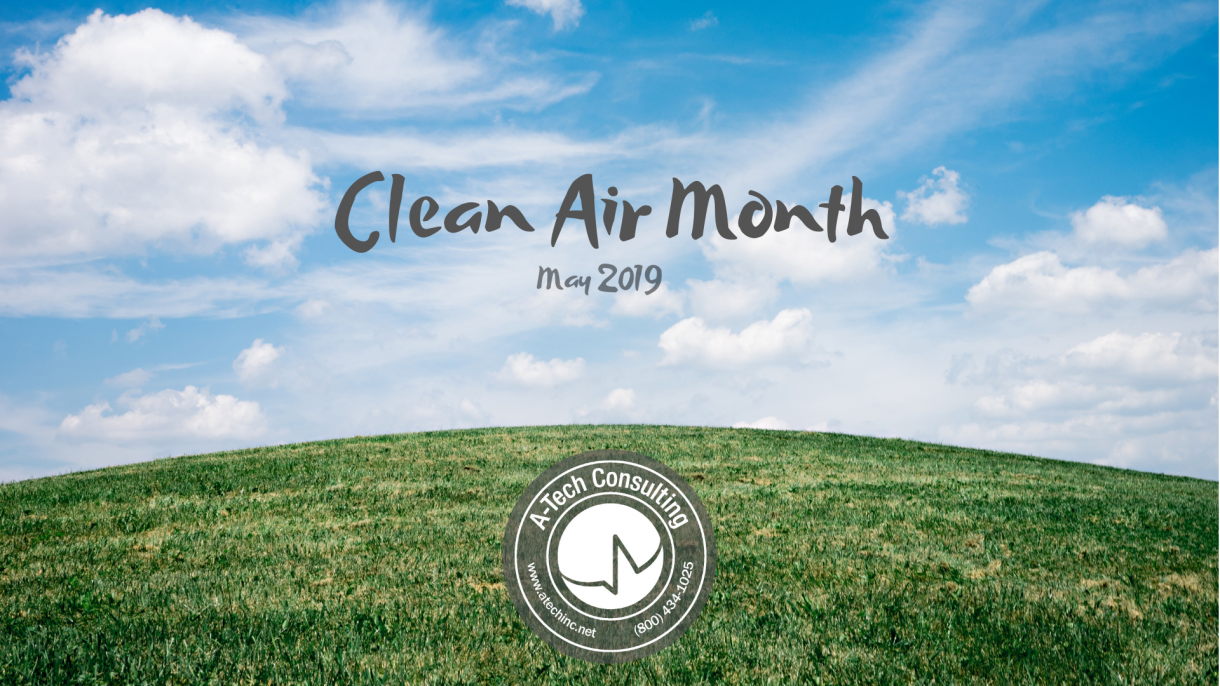 Did you know that the month of May is National Clean Air Month?
The American Lung Association (ALA) is the leading organization and a trusted source in America, working to save lives by improving health and preventing lung disease through education, advocacy, and research. Every year since 1972, the ALA has sponsored Clean Air Month every May across the United States to educate the public about the relation between clean air and respiratory health. This awareness campaigns aims to:
Educate people about the impact that clean air has on our lives
Encourages people to take positive steps to improve air quality – both locally and globally.
Events are held out throughout the month of May to promote awareness. You can join in on these activities that help lower pollution in our air, such as 'Bike to Work Days' or 'Share a Car Day'. Many of these activities help educate and highlight ways you can personally help impact the quality of air we breathe.
We can improve our air quality often based on reducing our use of electricity, using transportation more efficiently, and support legislations which improves air quality.
Consequences of Poor Air Quality
Poor air quality can harm the environment and can affect us all. Breathing in toxic pollution is linked to serious conditions such as cancer, chronic bronchitis, and can aggravate pre-existing conditions like asthma.
Indoor air quality directly affects occupant health, comfort and productivity.
Burning fossil fuels emits air pollutants which contributes to acid rain and the formation of harmful matter. The reaction of the gases creates acid rain and can disrupt lakes, rivers, and damage plants and trees.
Indoor Air Quality (IAQ)
Most people can recognize the health concerns associated with outdoor air pollution, however they rarely consider how poor their indoor air quality is. According to EPA, the level of indoor air pollution can be anywhere from two to five times more polluted than the worst outside air.
IAQ directly affects occupant health, comfort and productivity. Well-established, serious health impacts resulting from poor IAQ include Legionnaires disease, lung cancer from radon exposure, and carbon monoxide positioning. More widespread health impacts include common respiratory allergic reactions and asthma from exposure to indoor air pollutants (particularly those associated with building dampness and mold), colds and other infection diseases are transmitted through air, and mild discomfort such as sore throat, stuffy nose, tearing eyes and headaches. These widespread impacts have the potential to affects large numbers of building occupants and are associated with significant costs due to health-care expenses, sick leave and also productivity. Improving building environments may result in health benefits for more than 15 million of the 89 million US indoor workers, with estimated economic benefits of $5 to $75 billion annually.
A-Tech offers Comprehensive IAQ Investigations, HVAC System and Filter Inspections, and many other services for homes, offices, and facilities.  If you are interested, contact us for more information! Click here to read about one of the IAQ investigations at a large municipal facility and see how we returned the building back to a clean and breathable environment once again.
References:
"National Clean Air Month 2019." International Awareness Events, https://www.awarenessdays.com/awareness-days-calendar/national-clean-air-month-2019/
American Lung Association, https://www.lung.org/about-us/mission-impact-and-history/our-mission.html
"Clean Air Month 2019." What Health,http://www.whathealth.com/awareness/event/cleanairmonth.html
"Improving the Health of Workers in Indoor Environments: Priority Research Needs for a National Occupational Research Agenda." National Center for Biotechnology, https://www.ncbi.nlm.nih.gov/pmc/articles/PMC1447254/
"Indoor Air Quality Guide." The American Society of Heating, Refrigerating and Air-Conditioning Engineers, https://www.ashrae.org/technical-resources/bookstore/indoor-air-quality-guide