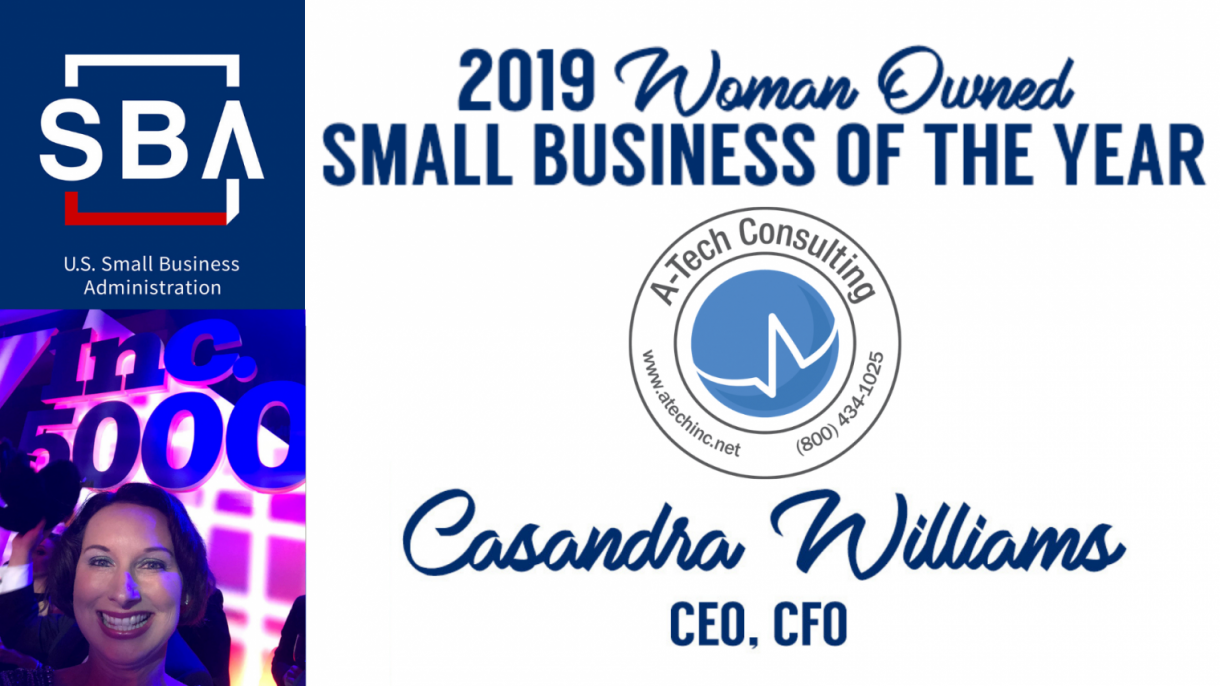 A-Tech Consulting has been named 2019 Woman Owned Small Business of the Year by the U.S. Small Business Administration!
The U.S. Small Business Administration selected elite companies as part of National Small Business Week to "highlight the contributions made by small business owners and champions to create 21st century jobs, drive innovation, and increase America's global competitiveness."
A-Tech Consulting's CEO/CFO, Casandra Williams will be honored on Friday, June 7th as part of the SBA's 56th Small Business Week awards luncheon to recognize her entrepreneurial spirit and achievements.
In 2002, Casandra and Robert Williams co-founded A-Tech based on the principle that each client should have access to cost-effective, environmental compliance. Casandra's visionary approach to business management and passion for leadership development have allowed for exponential company growth over A-Tech's 16-year history.
Did you know? 36% of Businesses in the United States are currently woman-owned.
As a proud Certified Woman Business Enterprise (CCA #12514), A-Tech earns eligibility for competitive state and federal contracts. Additionally, we are Certified Small Business Enterprise (SBE) and Disadvantaged Business Enterprise (DBE).
We took some time to ask Casandra some questions on how she overcame obstacles that women face as business owners.
Q: What was the biggest challenge you have had to face as an entrepreneur and how do solve these problems?
CW: The biggest challenge I face is myself, always. Stretching my own level of confidence in my ability to lead, have the right answers, provide the right support for my team, find the right vendors and verify everything we do and our professional partners do is correct. No one ever tells you when you start a business selling a widget or a service, you also have to be well versed in HR laws, tax laws, IT, accounting, procedure manuals, software development, coaching, real estate transactions, vendor negotiations, and so on. As we grow, the service becomes less and less my focus and the business development becomes more and more of a priority. It is a challenge and also a huge opportunity.
Q: How did you get to where you are today?
CW: Building a good team is key. We had several years where we didn't have the right people in the right seats. Those were stressful and frustrating years. Now we do have great people in places their talents can shine; and we are attracting new amazing talent every day. To build a good team, I had to become a good leader. That took a lot of coaching, training and education.
Q: Did you have any mentors or coaches?
CW: Yes, I sought out a lot of mentors. My Aunt is one of my biggest ones. I have been in Vistage groups for many years and the groups of CEOs I have learned from have helped me tremendously. I read a lot of books too – books are great resources of encouragement and learning. Also, Robert has been my biggest supporter and an amazing partner. He has encouraged me to fly from day one and now, lets me soar – and that is something to admire.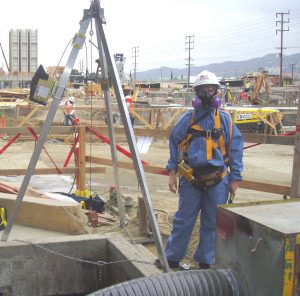 Q: What are the pros and cons of being a female entrepreneur?
CW: I don't know if being a female entrepreneur has pros and cons, per se. Statistically, I understand that women entrepreneurs have a harder time gaining access to working capital and currently only receive about 7% of venture capital funds.  I have never experienced this issue. I work hard to build amazing relationships and I am passionate about my purpose and people see that vision and want to be a part of what we are creating.  There are definitely challenges for females in a variety of industries, construction being one of them. Only 15 years ago, it was 98% men that worked in this industry and it is still evolving to be inclusive of females. We are witnessing a new generation that is working together to create a safe, respectful, productive work environment for females. While there are still some guys out there that are "old school," the old ways of treating women are quickly becoming an intolerable by both men and women in the workforce. By no means are we in a place where all people create a space of respect and curiosity of others, but so much progress is being made that I am one that acknowledges the progress in inclusivity of all people. For our company culture, I welcome diversity of all kinds. I am curious to learn from each person and provide opportunities to learn – it is what makes A-Tech an amazing place to be.
"They say it takes a village to raise a child; I say it takes a team to raise a business." – Casandra Williams, CEO
Once again, congratulations to Cassandra Williams for being an empowering woman in the business world and overcoming barriers to female leadership. Casandra continues to flourish and becomes someone who can inspire the next generation of women leaders!
---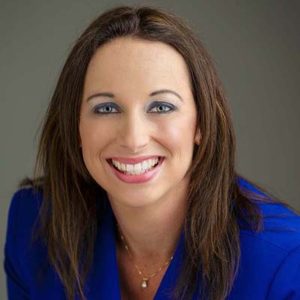 Casandra Williams, CAC, DPH, CIEC, CEICC, RMP
Casandra Williams serves as the Chief Executive Officer and Chief Financial Officer of A-Tech Consulting.  Mrs. Williams has managed thousands of projects including HUD level inspections, airport soundproofing inspections, AHERA school re-inspections, volatile organic compound testing, carbon monoxide mitigation, radon testing, construction safety and health management, hospital related infection control in construction management, confined space permitting, water loss restoration monitoring and fire burn-out restoration management. read more about Casandra here