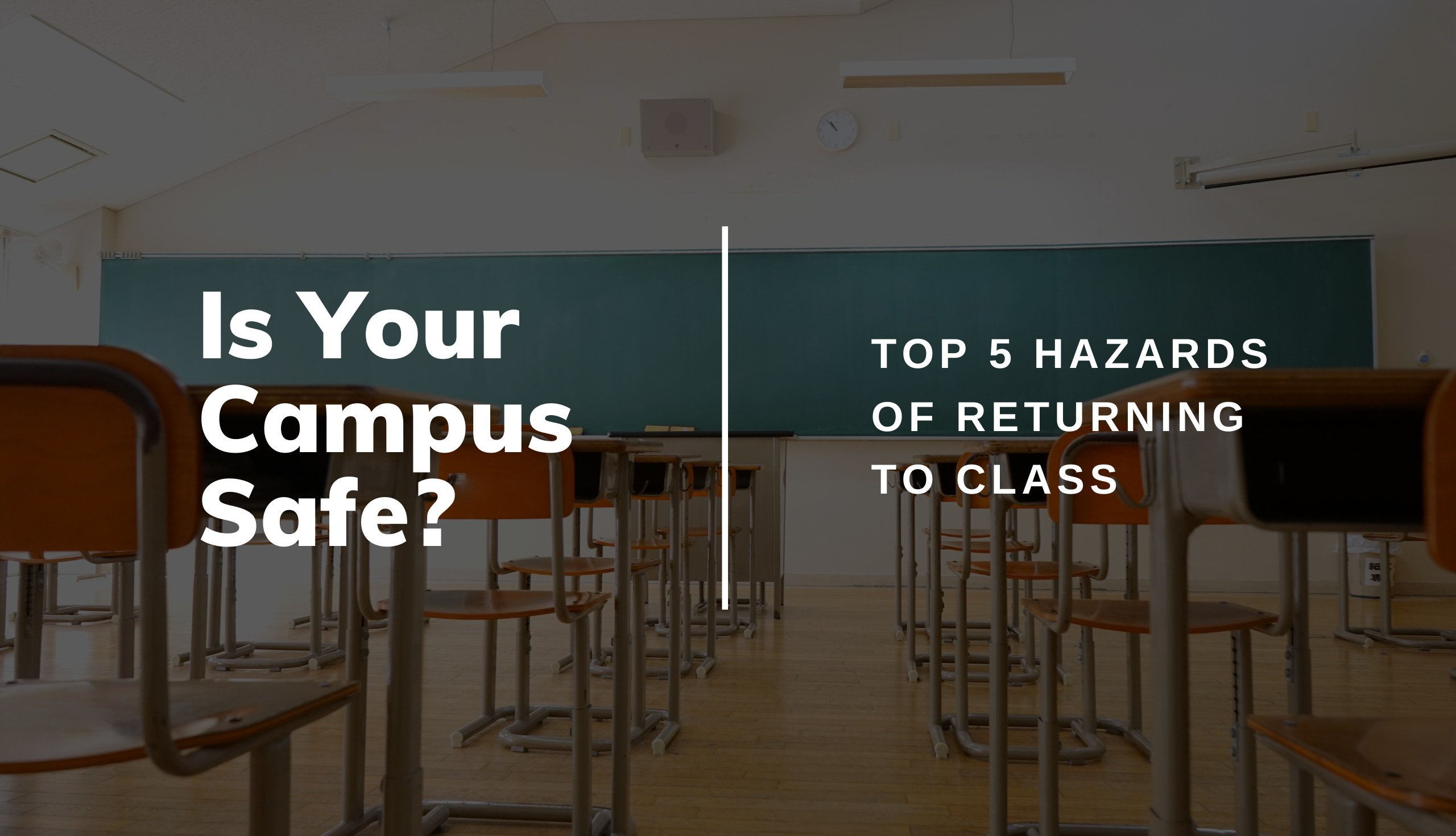 School is back in session!
In California, schools are opening and students and teachers will return to campuses. While we are all eager to get kids back in the classroom, reoccupying these rooms after an extended period of closure requires some careful planning.
With returning to campus come concerns by many parents, teachers and staff are concerned about what the air quality, water quality, and exposure to possible toxins may be after returning to their schools.
Here are the top 5 potential hazards you should look out for before returning to the classroom.
MOLD: All it takes is a tiny untreated water intrusion caused by a roof leak, pinhole pipe leak, or toilet backup, and, boom, mold presence in the affected area is highly likely. To ensure the safety of your students and staff prior to re-occupancy, our certified technicians can conduct a thorough inspection including thermal imaging technology, visual inspection, moisture probing, and microbial sampling to detect any  exposure concerns on campus
INDOOR AIR QUALITY: Old filters and dirty vents are the perfect recipes for poor air quality. Combine these with an extended period of nonuse, and you can put the health of a classroom in danger. Having an inspection conducted by one of our Council-certified Indoor Environmental Consultants (CIEC) who are expertly trained to perform indoor air quality (IAQ) investigations at your facility to identify possible indoor air quality hazards.
COVID COMPLIANCE: If a confirmed COVID case arises on your campus, it can become a stressful scenario. To help avoid confirmed cases turning into an outbreak situation, it is recommended to perform surface sampling to pinpoint affected areas. Once the areas have been identified you will need a professional to provide a proper scope of work for decontamination activity, monitor the project, and provide verification surface testing post-remediation that analyzes for the actual virus itself.
INDUSTRIAL HYGIENE: Industrial hygiene, defined as "that science and art devoted to the anticipation, recognition, evaluation, and control of those environmental factors or stresses arising in or from the workplace, which may cause sickness, impaired health, and well-being, or significant discomfort among workers or among the citizens of the community." With COVID concerns on everybody's mind, carbon dioxide is a great tool to check for proper airflow, the higher the carbon dioxide levels, the more we are breathing each other's air. Certified Industrial Hygienists use a combination of on-site inspection, environmental monitoring, and analytical methods to detect the extent of worker and student exposure risk and employ engineering, work practice controls, and other methods to control potential health hazards.
LEAD: Children are the most vulnerable when it comes to the impacts of lead in water. Even at low levels exposure to lead can result in developmental problems that can affect them for the rest of their lives. California and Washington require schools and licensed childcare facilities to test drinking water for lead.  The required actions if lead levels exceed the standard usually include stopping the use of the affected fixture(s) and providing water that meets the standard followed by a notification of the student's parent or guardian.
How A-Tech Can Help
District Facilities Directors, Managers, and Maintenance Staff face the challenge of keeping up with the maintenance of multiple schools and administration buildings which may be overwhelming upon the re-occupancy phase of this school year.  Whether you need assistance with COVID risk assessments, indoor air quality assessments, lead testing, or even conducting your 3-Year AHERA Re-inspections and asbestos management, A-Tech has the experience and expertise to assist in the environmental recordkeeping necessary to ease that burden.
Contact us today to schedule your free consultation!
REFERENCES
https://edsource.org/news-updates
https://www.edf.org/health/child-care-lead-water-requirements