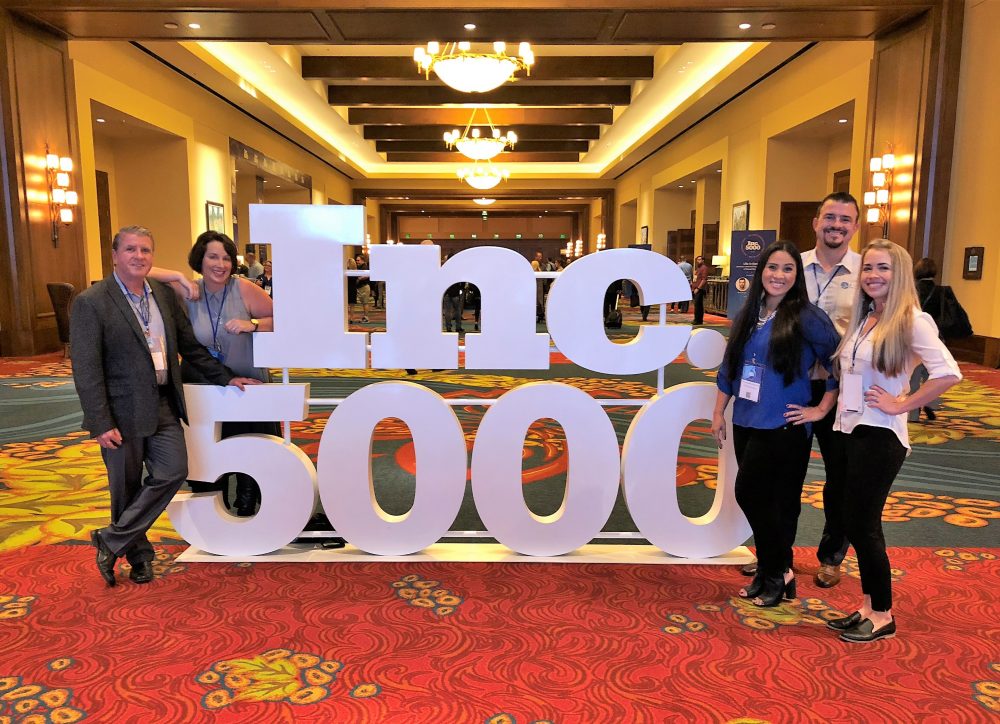 GETTING TO THE GOAL
Getting on the Inc. 5000 list has been a long-time career goal of A-Tech Consulting founders, Casandra and Robert Williams. In September of 2018, that dream became a reality when they received the news that A-Tech made the 2018 list of the fastest-growing private companies in the United States. What started as an idea to "provide cost effective environmental consulting," turned into a husband-and-wife team working in the back of their home garage, has become the fast-growing "authority in environmental consulting" company that joined the list of Microsoft, Dell, Yelp and many other well-known names who made Inc. 5000 list.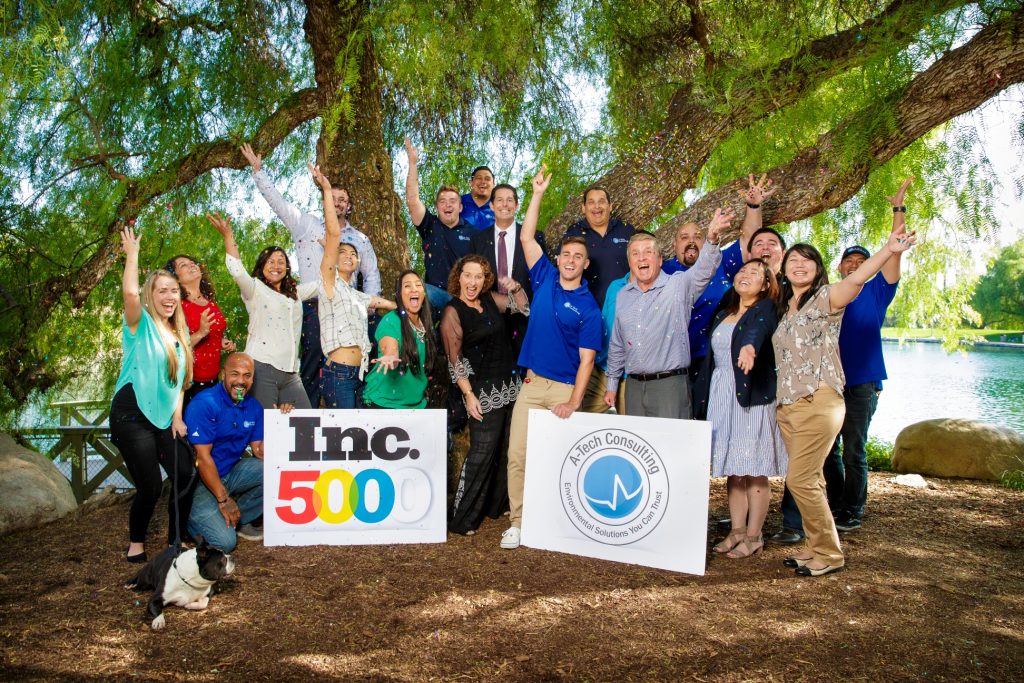 Many people ask what the key to our growth and success are and we have three major differentiating factors from our competitors: ongoing innovation, expansion of our service offerings and most importantly, constant development of our team. We are building leaders in every member of our team. With the opportunity to attend the conference, the A-Tech Leadership team was able to network with the fastest growing entrepreneurs in the country and learn from some of the best business developers and mentors in the United States.
INC 5000 CONFERENCE – THE EXPERIENCE
Every year, Inc. hosts a conference to celebrate anyone who made the list and welcome any entrepreneurs who are looking to learn and network with like-minded individuals. This year, the Inc. 5000 conference was held at the beautiful JW Marriott Hill Country Resort and Spa in San Antonio, Texas. Although the weather was unusually rainy, this did not dampen the electric energy from all attendees. The 3-day conference included amazing speakers, breakout educational sessions, marketplace booths for sponsors, networking event and ended with a glamorous black-tie gala, honoring all 5000 companies who made the list.
Some of the best learnings our team is excited to bring back to our team is from Bert Jacobs of Life is Good, reminding us to change our "have to" do something to "get to" do something. Ben Chestnut, CEO of Mail Chimp, reminded us to never be content – there is no "we made it."  Ron Shaich, founder of Panera Bread, gave good advice to drive continually, stay true to your company's values and do what your intuition tells you, even when others tell you not to. Scott Harrison, CEO of Charity: Water reignited the reminder that there are places in the world where water is unavailable and basic life needs are still not being met. He explained how businesses should be a way to get outside ourselves and include making the world a better place, through contribution. Kendra Scott, CEO of Kendra Scott reminded us of the importance to stay true to your mission and values, create a strong company culture and take care of your employees, because they are the ones who will take care of your business. Dr. Brene Brown, Author of Daring to Lead, taught us that "courage is 100% teachable, learnable and measurable." And a personal new favorite quote, how we should all "Embrace the Suck!"
Day Three ended with Inc 5000 signature event, an elegant Black-Tie Gala where all 5,000 companies were acknowledged and celebrated! We were thrilled to celebrate this iconic event with hundreds of other business owners who were there to commemorate making the list!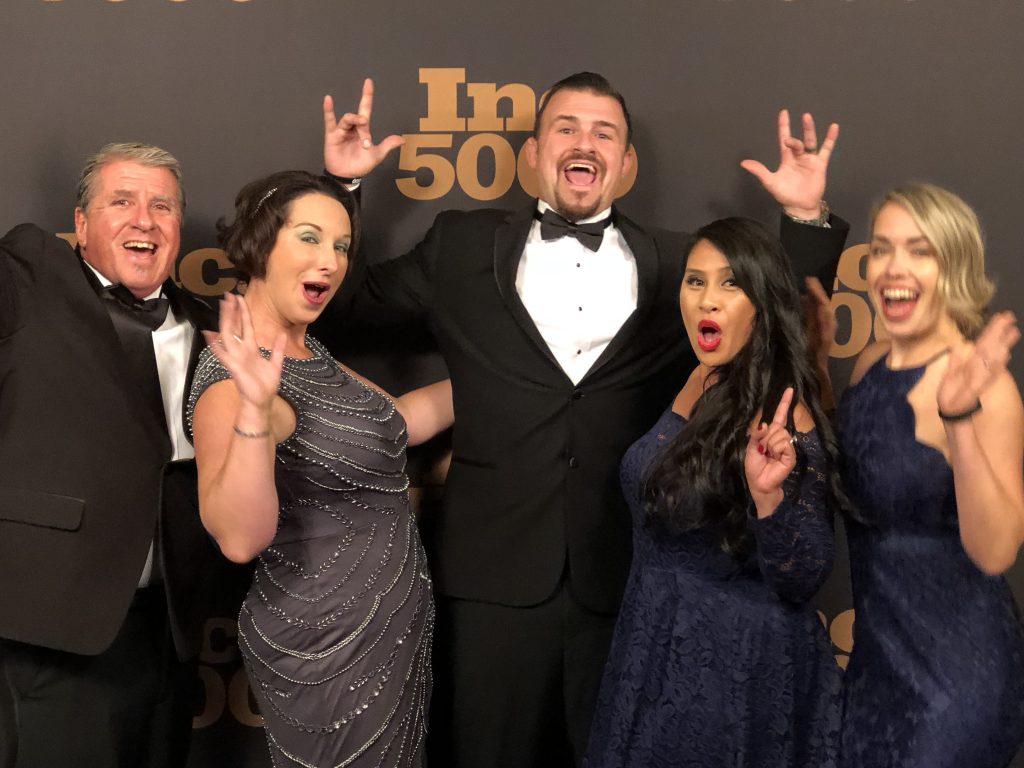 REFLECTION and INSPIRATION
Returning from this event with our long-term goal realized, brought about two thought processes. The first was reflecting on the road that got A-Tech to the successful place it is at today. Starting with our early clients that believed in A-Tech President, Robert Williams expertise; and all the clients that have joined the ranks of our favorite people to work with (which is all of our clients, we only keep the good ones), I am thankful for all the people we get to work with every day who become our supporters and fans. I think about our sons, Conan and Joe who believed in the A-Tech vison: "To be the leader in the environmental industry through staff development, market influence and technological advancement." They have spent years developing, learning, working and teaching being huge influences in our culture and growth. I think about our leadership team and all the development, ideas, processes and unwavering commitment to the A-Tech mission: "To provide responsive environmental solutions for every building, in all industries." They are the stars of the show!  I am in most gratitude for the people that work with us, boots on the ground every day, representing at the ground level our core values "integrity, accountability, leadership, inno
vation and responsiveness."  Every person that walks through the doors of our company is unique and adds value to our culture.  Being in the hub of experiencing each person in our team creates synergy and opportunity. As founders, we believe it is both an honor and responsibility to create job security, career growth, and provide opportunities for personal development.
The other thought path is the inspiration for what is to come. Making the Inc 5000 list is a huge catalyst for our team to create our new BHAGs: big, hairy, audacious goals!  We are creating a clear vision of where we are going next, expanding into new markets, new services, and new geographic locations. We are dreaming up new ways to innovate, being the core of an industry disruptor – this is integral to our success. Most importantly, we are focusing on providing continual opportunities for our team to learn, develop and create new positions for our next integral team member. The occupation of being a business owner is a tricky balance between creating inspiration, opportunity and stability. Empowering our people to be leaders and decision-makers is key. Keeping the entrepreneurial spirit ablaze takes commitment to the purpose and the people. We are continually reminding ourselves of how far we have come from the early days in our little garage office and stretching ourselves to think bigger and push farther than we think is possible.  Our team is excited for what is next – individually and collaboratively. There are no limits to what the A-Tech team can accomplish!